$15,930 47,280 miles
Original MSRP of $114,335
Andorite Gray
Automatic
AWD
2-Owner! Only 47k Miles!!
Super Clean-4Matic AWD!
Deep Michelins-NAV-A/C Seats!
2 Keys-Service Records!
---
What Our Clients Say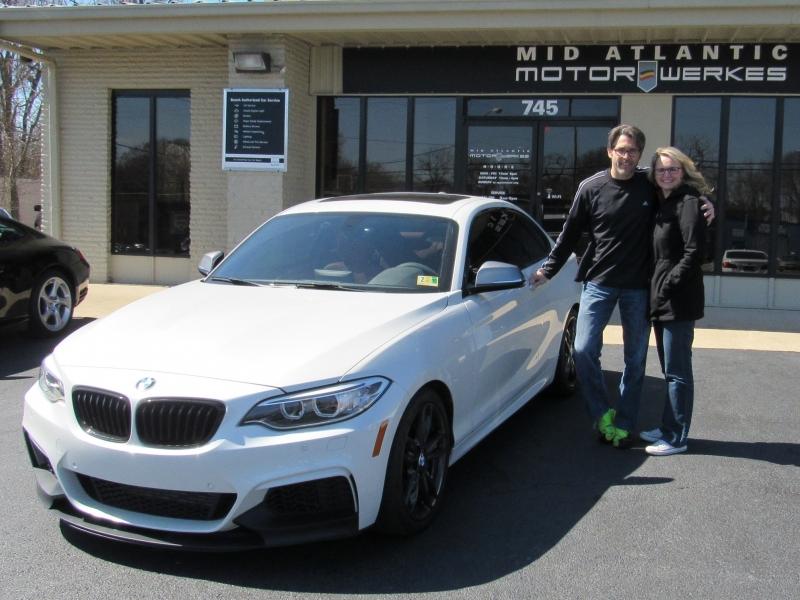 I have been a motorcycle rider for over 30 years and the time came to sell the one I had and replace it with a vehicle that more of my family could enjoy; not just me. Through my research and test drives, we settled on BMW. Then continued to narrow our search through all the BMW models down to the 235i. For the next 2 to 3 months we did nothing but search through Autotrader, Cars.com, Craigslist, etc searching for the car that fit all the parameters. My spreadsheet continued to get larger the more cars I found; however, not one of them fit everything my wife and I were looking for. In our stereotypical way, she liked all the technology – back up camera, auto adjust seats combined with heat…cause it gets cold in Nashville? I wanted manual shift, plus solid loud-punching sound.
We ended up running across Mid-Atlantic Motorwerkes site linked from Cars.com where they had posted this beautiful, white 235i with a ton of M style upgrades to it. The front bumper, exhaust pipes, wheels, and a pretty rare find in an alcantara wrapped steering wheel. Very cool car! Pictures looked clean, description was ample and I thought "no way, this car is not all this for that price."
I called Greg and left a message, to my surprise he called me back that night and proceeded to spend a considerable amount of time with me on the phone answering all my questions. I am a BMW rookie and only had book knowledge of what I thought I wanted. Greg described the car to me and the calm, non-pressure feeling of his delivery was spot on (1 point dealership). The more we talked, the more I wanted to like this dealership. At the end of the phone call, we made plans for me to drive over and look at the car. If everything was the way Greg said it was, I would purchase and be on my way home. However, in my head business is business and I could not make the trip for another week. Additionally, this is the first introduction for me to this dealership; still a bit skeptical on my side. My schedule put Greg at a disadvantage of "holding" the car in case he would miss an opportunity during the week I was traveling. However, he assured me he would not sell the car until I had time to come over. The trip from Nashville to Harrisonburg, VA is an 8 hour trip. If I was willing to commit to the drive he was willing to wait. I can tell you Greg's integrity is everything you would hope for in a business owner (another point, dealership).
Next issue – life. Greg was going out of town for spring break and would not be there the day I was scheduled to arrive. No issue, he placed in contact with Dallas, who from the start introduced himself professionally and took the handoff from Greg never missing a beat. He talked me through what I should expect the day I arrive. We talked through my trip and how we were thinking to rent a car instead of driving two cars. Enterprise was a perfect fit as there was one literally right across the street.
The day we arrived, all the paperwork was done ahead of time (another point, dealership). Dallas respected my request and left the car cold so I could become familiar with the car from a cold start all the way through a few hours of test driving, looking, my wife test driving. There was no rush, no hurry…I could take as long as I wanted or as short as I wanted. Dallas gave me the sense he was onmy time table, not the other way around. His paperwork was already completed, so it was up to me and I loved that (another point).
The car was perfect…exactly what Greg had described to me the week before on the phone. When the time came to finalize the purchase, we stepped into the showroom, signed a few lines and we were on our way.
The staff is incredible and I truly enjoyed this buying experience. I wholeheartedly believe if every dealership treated their customers this way and had the philosophy about buying a car that Greg and Dallas do, the car industry would change forever.
Thank you so much gentlemen! I would not hesitate to do this again when the time comes, but this time, you will be the first place I look!! Gregg Marsh
— Gregg Marsh