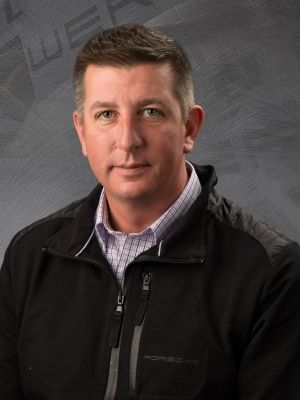 Greg Shaffer
Owner / Founder of Mid Atlantic Motorwerkes
In 2003, Greg Shaffer merged his passion for fast cars with his successful business background to found Mid Atlantic Motorwerkes in Harrisonburg, Virginia. Greg's former background experience of retail was with three other friends who charged to the top (from 1995-2004), nationwide, in the highly competitive ski and snowboard industry while he co-owned/operated a highly visible brick and mortar/Internet operation well known by locals during that era as Ski and Skate.
Greg's transition from entrepreneur to race driver helped build the foundation for the dealership as a means to fuel his life-long obsession with speed and the platform for specialized sales/service/parts of European vehicles as the focus. In 2008, after 9 years of amateur motorsport driving, he was able to climb the ranks to a respected professional driving status where he was honored to compete at high level racing venues held at Watkins Glen, Daytona, VIR, Barber, Homestead Miami and multiple Grand Prix events hosted annual at Long Beach California, St. Petersburg, Florida and the Toronto Grand Prix, to name a few. Greg was able to rack up multiple awards along the way including runner-up in the 2008 North American BMW corporate road racing series, Hard Charger accolades and podium finishes while working with teams representing manufacturers such as BMW, VW, Mercedes-Benz, Mazda and Nissan.
As a natural entrepreneur, Greg quickly saw a promising opportunity to share his love of speed and high performance vehicles with others. The result – Mid Atlantic Motorwerkes – was born in a modern re-designed property, highly visible on the main drag of East Market street (Route 33 West) in the beautiful Shenandoah Valley where Greg has been a local resident since 1982.
Greg's ability to consistently offer exceptional vehicles doesn't stop there, as the dealership's overall aim is to deliver a great experience, forge lasting relationships and exemplify the utmost respect to our valued clientele. Motorwerkes has built quite the testimonial section of their website and their comments remain very consistent across the board for having quality vehicles that they represent and stand behind with complete confidence.
Greg resides in Harrisonburg with his beautiful wife, Annie and their two daughters, Rennie and Claire. Greg and his family continue to remain active within the Harrisonburg community and are consistently a partner to many local charities, fundraisers, board of members, James Madison athletics and other entities.
Fun Facts:
What was your first car ever owned?
1973 BMW Bavaria
Favorite car ever owned?
1985 Porsche 911 Coupe (still lives in the valley!)
Favorite racetrack in North America and why?
Sheer scope of size/history/speed/extreme banking: Daytona International Speedway! Considered faking an illness to be removed from the driver lineup after lap #1 Grand Am Cup series (true story, 2009) Truly the most intimidating racing facility in North America and television does it no justice!
Favorite race ever competed in and why?
Barber Motorsports Park, Birmingham AL 2008 in BMW CCA Touring Car (BMW e36 M3 widebody). Championship points on the line, crashed the car during the qualifier while opting for Michelin 'slicks' knowing damn well the track surface was too cold to handle on that sub-freezing temperature morning. Crew completed a massive front-end reconstruction, had me back in the race grid line-up at the final minute before grid closed and finished from the back of the pack to a 3rd place finish to tie the points lead! Battling adversity has always been my fondest moments as a racer! Quitting is not an option!
Worst crash you ever had racing / most interesting?
Hmmm… I've to to say that while racing in 2013 for Nissan Motorsports at the 'Toyota' Long Beach Grand Prix in California. We were experiencing some elusive and sporadic braking issues on the #52 370z Nismo touring car and the 1st hit had me into the Turn 1 wall, where I randomly 'hooked' the Toyota banner on that section of wall with the rear wing of the car and dragged it around for nearly 1 full lap while the announcers on NBC Sports were saying "Shaffer's Nissan folks are NOT going to like that he's got the Toyota banner on display flapping in the air off the back of their Nissan!" Haha!! It's also on my "do not erase" section of my DVR at home and always fun to watch that every now and again for a good laugh! Had a harder crash later that retired the car, same wall, same issue.
Favorite pastime(s) while not being around cars/track?
Spending as much time on my boat is a priority for me/family at Smith Mountain Lake and Lake Anna! Boating is a great activity and my dual engine powerboat helps get my speed-fix on the water! It's also great when you can enjoy that with your family and friends and my wife/kids love to be on the water during the summer as well. Quality memories are always going to be made on the lakes of VA! I also tend to play a fair amount of golf and try to keep my handicap below a 10 index and enjoy teeing it up whenever I can! Skiing is still a priority as well, but sometimes in VA, Mother Nature has different plans. If fresh snow is coming, I will guarantee you that I'm going be "sick" that day for work — just ask my folks at the dealership! (See you on the 1st lift chair!)
---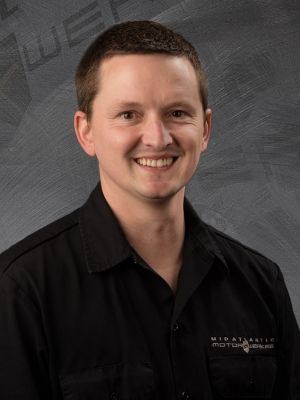 Jason Zook
Service Manager / Lead Technician
Jason joined the Mid Atlantic Motorwerkes team in early 2005 and has been managing the service and parts department since then. Jason has worked as a professional mechanic since 2000, the first six years as a motorcycle technician for Honda. Little did he know, his career started way before that. Jason has had an unquenchable thirst to learn all he could about mechanical and electrical devices since he could wield a wrench and use a multimeter.
Jason prides himself on giving the customer an honest and expert opinion on the best avenue to repair their car cost effectively. Precisely diagnosing a problem is of the utmost importance to him. A shotgun approach is not an effective one, nor is it the cheapest. Automotive electrical systems are highly advanced with fiber optics, can networks, and multiple computers all working seamlessly together. The challenges involved in determining a fault within the electrical systems of a vehicle are some of the most difficult issues seen in shops today. Jason gets great satisfaction in tracing through pages of wiring diagrams and finding the root cause of an electrical issue.
Working with Greg Shaffer's race team and on other customers race cars has also provided him with a great knowledge base. From performance engine modifications, engine building, tuning, braking systems, suspension set up, tire technology and driveline repairs. Understanding what happens when a car is driven to its mechanical limits allows him to directly use that knowledge and apply it to the every day repairs we make on our customer cars.
What is your favorite hobby?
My wife and I have been working with the keith code superbike school since 2006 and getting lots of track time at VIR. I met my wife while working as a technician at the local Honda motorcycle dealer. Prior to having kids, we would spend nearly every weekend on the motorcycles riding through the beautiful backroads of VA. The time to ride has been dwindling now that we have two amazing kids. However, as soon as their legs grow long enough to reach the pegs well be back at it!
What was your favorite project at Mid Atlantic?
A customer stopped in one day with a z3 3.0 coupe and wanted some performance work done. We installed a supercharger, super sprint exhaust, leather wrapped gauges on the dash. It was one of those projects that went so smooth and everything fit perfect. The final product was so satisfying to drive with a nice boost of power and sound and a factory fit and finish.
What was the most challenging project you have encountered?
Turning a VW R32 into a race car. It was also the longest ongoing project at Mid Atlantic. When we started developing the r32 there were very few aftermarket solutions for racing applications. It was also a heavy car and underpowered for the class we were trying to enter into. I remember we welded ford focus camber plates to the shock towers to gain adjustability for the suspension when there were no companies making that specific part. We were able to lower the weight of the car by cutting the entire roof off and welding in a roof with no sunroof, replacing doors, hood and hatch with carbon fiber components, and stripping the interior of any unneeded parts. I also hand built a low compression engine from the crank up with rods, pistons and custom sized rings and bearings. Then added an air to water intercooled supercharger kit! Now the car was ready to compete! We actually had to detune the car to stay in our class.
What was your first German car?
1985 VW Golf. It was a hand me down back in high school from my dad. Since then I have never had anyone repair one of my own cars since 1997.